Alex Roitman Tango Ensemble (ARTE) is a Sarasota-based group performing exciting authentic Argentine Tango music, for both dancers and listeners. Combining strong classical skills with the extensive tango style training and individual musicality, this ensemble brings the flavor of Buenos Aires to sophisticated Florida audience.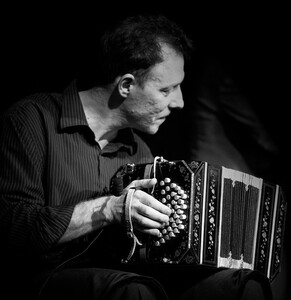 The group is led by Alex Roitman, a bandoneonist disciple of Hector Del Curto. While living on the West Coast, Alex performed in San Francisco with his previous group Tangonero. Mr. Roitman is a member of a Stowe Tango Music Festival tango orchestra, and a silver medalist of the 2022 Che Bandoneon International Competition (also a bronze medalists of 2018 and 2019). He shared the stage with legendary tango musicians as Victor Lavallen, Horacio Cabarcos, Pablo Estigarribia, Jose Colangelo, Pablo Agri, Nicolas Ledesma, Humberto Ridolfi, Julio Pane and Nestor Marconi, as well as the members of Héctor Del Curto's quintet. In addition to his bandoneon work, Mr. Roitman has composed several tango pieces, made original arrangements and continues to work on transcribing and arranging great tango music of the past. In the fall of 2020, he relocated to the East Coast, and currently splits his time between Boston Tango Orchestra in the summers and Alex Roitman Tango Ensemble in the winters.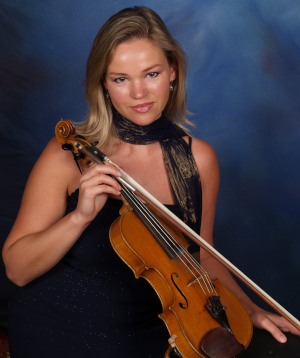 Russian born violinist Natalia Vasilieva Maiden holds degrees in violin performance and teaching from the Minsk State Conservatory, Belarus. Natalia has been performing with Sarasota Opera, St. Petersburg Opera, Venice Symphony, Sarasota Orchestra. Her passion is working with a diversity of music genres ranging from classical to sophisticated jazz and pop music. She has performed with Andrea Bocelli, Johnny Mathis to name a few. Natalia also takes part in various music projects collaborating with other artists and groups.
Born in Hong Kong, Crystie began piano lessons at four. In 2017, she fell in love with Argentine tango after playing in the CMC Tango Ensemble directed by Scott O'Day. Since then, she has been receiving coaching from maestros such as Hector Del Curto, Pablo Estigarribia, Gustavo Casenave, Hernan Possetti, Nicolas Ledesma, Adrian Enriquez, Cesar Salgan, Julian Peralta, Juan Pablo Gallardo, etc. through workshops and also personal training in Buenos Aires, Argentina. She performed in small ensembles with the guitarist Maxi Larrea and the bandoneonists Alex Roitman, Hugo Satorre, and Leonel Gasso. Ms Shum is a member of a Stowe Tango Music Festival tango orchestra, and also is currently a pianist, vocalist, and arranger in Orquesta Tipica Domo in San Francisco Bay Area. She's also a founding member of groups TangoLuna, Las Tangueritas, and Cuarteto Diagonal. In addition to her piano work, Crystie also plays bandoneon in La Orquesta Fusion Tango. Besides music, she is a social worker with two dogs and a parrot.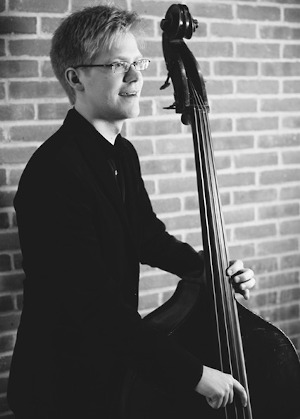 Cameron Kayne was raised in Western NY in a musical family. His father is a gifted music educator, performer, and composer/arranger. His grandfather was an accomplished pianist who shared the stage with the Glenn Miller orchestra and Louis Armstrong. Cameron started playing the bass and taking lessons at the age of ten. He started performing regularly with local jazz musicians as a freshman in high school. He attended college at SUNY Purchase and received a BA in music performance. Upon graduating he began teaching at the collegiate level, teaching ear training and private bass lessons. In 2013 he won a position with the USAF Airmen Of Note, the premier jazz ensemble of the United States Air Force. With this ensemble he traveled to many places in and outside the continental United States, performing at various jazz Festivals and conferences. Cameron currently resides in Sarasota, FL where he enjoys golfing, composing, yoga, and practicing orchestral music.